Customers Want Free Flowing Gutters
They know that trees shed leaves year after year forever.
Clogged gutters does not have to be a fact of Life!
Why Should They Have Clogged Gutters, When They Can Have
The Gutter Shield ®
Patent No. 6,735,907
Show Them How You Can Protect Their Investment & Reduce Home Maintenance Cost!
---
Leaves, twigs, acorns and debris fall over The Gutter Shield ® smooth surface to the ground. Clean, debris free, rain water flows over and around the especially designed front edge, right into the gutter. The gutters remain free flowing. The Gutter Shield® is barely visible when viewed from the ground level due to its low profile. It blends perfectly with any type roof (Asphalt Shingles, Fiberglass Shingles, Wood, Metal, Slate or Tile). Works on any style roof and works on any pitch.
More homes are damaged each year from gutter overflow than any other water related source. Clogged gutters and down spouts result in damage to paint, siding, fascia boards, soffit (overhang) and roofing, not to mention flooded basements and wet crawl spaces.
The accumulation of leaves, pine needles and twigs clog gutters and down spouts, preventing proper water flow from the gutters. Home owners hate cleaning those nasty, smelly gutters or having to pay someone else several times each year to do it for them. Not only is getting up on the roof or ladder to clean the gutters difficult it is annoying and dangerous.
Water dammed up in gutters from leaves and twigs for only a few days can breed mosquitoes, just outside homeowners doors and windows.
Don't Take Chances
On The Unknown
The newer breeds of mosquitoes that have recently invaded the U.S. can be extremely pesky and dangerous especially to children and older persons!
As a professional gutter person you know from your own experience, that the oldest form of gutter protection is a wire screen over the gutter or any variation thereof, and it simply does not work! Their basic design is flawed from the beginning and are more trouble than they are worth!! The Gutter Shield® is a solid sheet of aluminum, it is a low maintenance product that eliminates the routine gutter cleaning ritual, providing a sensible solution to clogged gutters.
We Gutter Clogs Are Having a Very Difficult Time

Hey, SMELLY Let's Go Some Place Else

They've Got The Gutter Shield ® Here

NO CLOGS ALLOWED!
---
It Really Works, We Want Our Installers To Go The Extra Mile To Please Every Customer!
---
Hey, You CLOGS I've Finally Found One

Without The Gutter Shield
---
A Gutter Protection Device Does Not Have To Be The Most Expensive To Be The Best,
It Just Has to Look and Perform Like It Is The Best!
The Gutter Shield ®
Really is different from any of the other devices on the market
We combined the best features of each system Into
The Patented Gutter Protection System You See Here!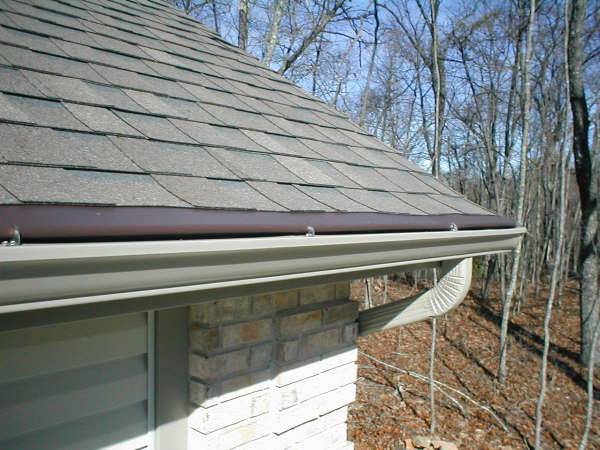 It gives the existing gutters the look of a one piece Gutter Protection System which cost much, much more
The Gutter Shield ® has a very low profile of just 3/4" in height, and is barely visible when viewed from ground level. Each 4 foot heavy duty aluminum section is installed on existing gutter and extends upward between the starter shingle and the first row of shingles which is located immediately above the starter or lowest shingle. It is held fast to the gutter by our unique stainless steel fastening system. Our system requires no screws or nails through the shingles into the decking to hold it in place. On most installations only a few inches of the cover is visible since its top edge fits up under the first row of shingles which hang over the bottom edge of the roof.
---
You Can See The Gutter Shield ® Pleasing Appearance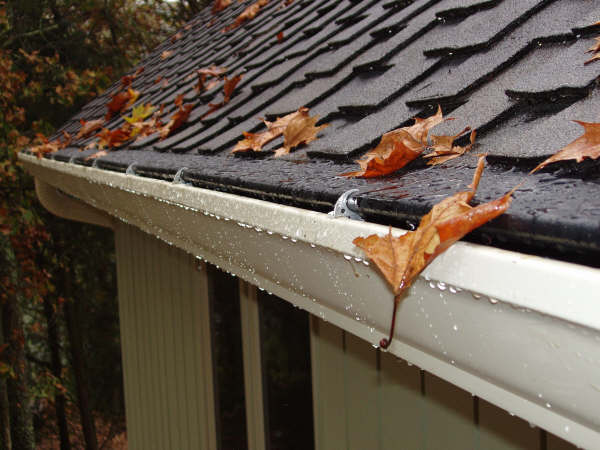 UNOBTRUSIVE LOW PROFILE, VIRTUALLY INVISIBLE
Even If You Were Standing Just Twenty Feet Away From The Gutter Shield ®
You Would Never Know It Was There Unless Someone Pointed It Out & Told You What It Was !
SUPER LOW PROFILE
The super low profile of The Gutter Shield ® gives your existing gutters the look of the more expensive one piece gutter systems that could cost you much, much more!
The patent pending Stainless Steel Hurricane Clip™ & Stainless Steel Screws Keeps The Gutter Shield ® Firmly Attached Even In Adverse Weather.
IMPORTANT: You can be sure you are getting the authentic The Gutter Shield® and not a (Knock-Off, Copy Of Our Device) by looking at the Gutter Clips (shown above) which attach our shield to your gutters. Each clip has the name Gutter Shield® stamped right into the metal. If the words Gutter Shield® are nor stamped into the clip it is not an authentic The Gutter Shield® product.
The Gutter Shield ® unique fastening system allows for a quick clean instillation. The Gutter Shield ® comes in several decorator colors and works on all types of gutters K style, half round and commercial gutters and with virtually all roofing materials including Asphalt-Fiberglass Shingles, Metal Roofs, Slate, Tile and Wood.
Are these competitors in my area? Yes one or more of these competitors are represented in most major cities throughout the country. The devices mentioned above by name perform well, but do your home work. Why not check your local yellow pages and call them yourself to see how much it will cost you to have their professional clog free gutter system installed compared to The Gutter Shield ® .