The Original Gutter-Brite™
STREAK & STAIN REMOVAL SYSTEM
Your existing customers have Ugly, Stained Rain Gutters,
They are waiting for you to contact them with a solution!

Black Streak Removal Made EASY!
NO SCRUB CLEANING
Spray It On, Rinse It Off!
Professional roofing companies order this product by the 55 gallon drum
They remove ugly, gutter streaks year round
even it winter when working on a roof is IMPOSSIBLE!
Often imitated but NEVER duplicated.
This product is so popular that some unscrupulous individuals have stolen our trademark Gutter Brite
If its not "The Original Gutter-Brite ™ it aint right!
Don't trust imitations or similar names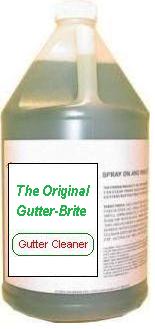 Absolutely Nothing You Have Ever Tried Cleans Gutter Streaks Like The Original Gutter-Brite ™
The black streaks and stains on gutters are a result of electrostatic bonding of tar & asphalt from roofing material and other debris to painted Aluminum or other painted surfaces. These streaks are not stains, but are molecules of one type of material bonded to another.
The Original Gutter-Brite ™ will break down this bond which will allow you to remove the unwanted streaks off your aluminum gutter with little effort and
The Original Gutter-Brite ™ works year round however it works faster when the material temperature is over 50 degree. The warmer the better.
One Gallon of our super concentrate makes enough product to clean up to 3,000 linear feet of gutters, depend on severity of streaks.
One gallon of The Original Gutter-Brite ™ can put thousand of dollars in your bank account!
1 gallon jug (trial size)
1 case of 4 (1) gallons jugs (just to get started)
55 gallon drum (professional roofing company)
SPR Product Sales
320 L Northpoint Pkwy, Atlanta GA 30102
We Ship UPS Daily
NO expensive equipment required to apply product or rinse gutters.
Contractors Prices and E-Order